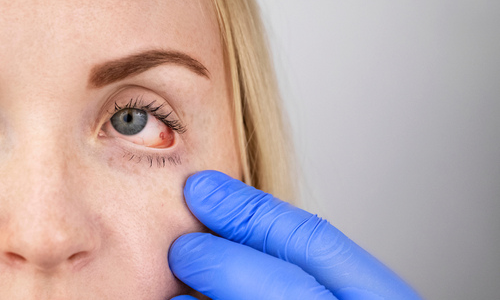 What You Need to Know About Uveitis
Uveitis, a painful eye condition that affects the middle of the eye, can lead to vision loss if it's not treated in a timely manner. Fortunately, your optometrist can offer several treatments that will help reduce pain and preserve your vision.
Uveitis Causes Inflammation in the Eye
Uveitis occurs when the uvea, the middle part of your eye, becomes inflamed. Although uveitis can happen at any age, it mostly occurs in people ages 20 to 60, according to the National Eye Institute.
Types of uveitis include:
Anterior Uveitis. This kind of uveitis causes inflammation between your iris, the colored part of your eye, and your cornea, the clear tissue that covers the iris. It may also affect the ciliary body, a ring-shaped muscle responsible for changing pupil size and lens shape.
Intermediate Uveitis. Intermediate uveitis affects the vitreous gel that gives your eyeball its shape and the outer parts of the retina. The retina is the layer of light-sensing cells that lines the back of the eye.
Posterior Uveitis. Posterior uveitis inflames the retina and the choroid, the layer between the retina and the sclera (white part of the eye).
Panuveitis. Panuveitis affects the anterior, intermediate, and posterior parts of the eye.
Symptoms of Uveitis
If you have uveitis, you may experience one or more of these symptoms:
Pain in your eye
Blurry vision
Redness
Small pupil size
Light sensitivity
Floaters (Wispy shadows that seem to float in front of your eyes)
It's not always possible to determine why you have uveitis, although these factors may increase your risk:
Eye injury
Eye surgery
An autoimmune disorder, like lupus, ankylosing spondylitis, or Crohn's disease
Shingles
Psoriasis
Multiple sclerosis
Lyme disease
Sarcoidosis
Toxoplasmosis
Tuberculosis
Certain strains of the herpes virus
AIDS
Behcet's syndrome
Ulcerative colitis
Rheumatoid, reactive, or juvenile idiopathic arthritis
Kawasaki disease
Medication side effects
Cancer of the eye
Uveitis can damage the tissues in your eye causing vision loss or blindness. If the condition isn't controlled, you may be more likely to develop:
Glaucoma
Cataracts
Swelling or scarring of the retina
Detached retina
Optic nerve damage
Uveitis may affect just one eye or both eyes. Symptoms can start gradually or occur suddenly. If you notice any of the symptoms of uveitis, call your optometrist immediately.
Once you've had uveitis, you may be more likely to get it again. Regular eye exams at the optometrist's office will help you manage your condition.
Uveitis Treatment
Treatment for uveitis may include:
Medication. Your eye doctor may prescribe drugs that stop spasms in your iris, reduce inflammation, kill bacteria, treat viruses, or suppress your immune system. Corticosteroids, drugs that reduce inflammation and pain, may also be recommended. Your uveitis medications may be in pill, eye drop, or injectable form.
An Implant: If you have posterior uveitis that doesn't get better after taking medication, an implant added to the back of your eye may be recommended. The implant contains corticosteroid medication and helps keep inflammation under control.
Surgery. Sometimes medication isn't helpful in controlling inflammation in the vitreous. If that's the case, surgical removal of the vitreous may be needed. After the vitreous is removed, it's replaced with saline solution, silicone oil, or a gas bubble.
Treatment of Underlying Conditions. Managing a condition or disease that may have caused or worsened inflammation in your eye can help keep uveitis under control.
Do you have any of the symptoms of uveitis? Whether you're concerned about troubling changes in your eyes or it's time for your next exam, we're here to help you care for your eyes. Contact our office to schedule an appointment.
Sources:
National Eye Institute: Uveitis, 7/11/19
American Optometric Association: Anterior Uveitis
American Academy of Ophthalmology: What Is Uveitis?, 11/9/20